N.W.A (Niggaz with Attitude) was a Compton, California-based hip hop group widely considered one of the seminal acts of the gangsta rap sub-genre.

The group endured controversy due to the explicit nature of their lyrics. They were subsequently banned from many mainstream U.S. radio stations and even at times prevented from touring – yet the group has still sold over 9 million units in the U.S. alone.

Their second album, Straight Outta Compton, marked the beginning of the new gangsta rap era as the production and the social commentary in their lyrics were revolutionary within the genre…
As an Amazon Associate I earn from qualifying purchases made through affiliate links.
N.W.A. and the Posse (1987)
01. Boyz-N-the-Hood
02. 8 Ball
03. Dunk the Funk
04. Bitch Iz a Bitch, A
05. Drink It Up
06. Panic Zone
07. L. A. Is the Place
08. Dope Man
09. Tuffest Man Alive
10. Fat Girl
11. 3 the Hard Way
Straight Outta Compton (1988)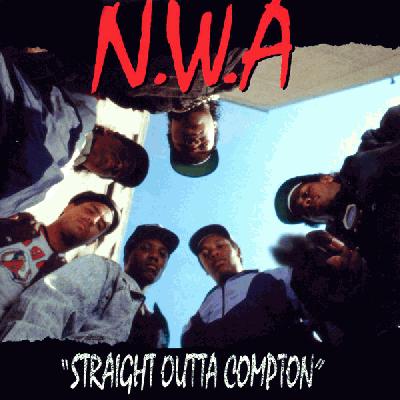 01. Straight Outta Compton
02. Fuck tha Police
03. Gangsta Gangsta
04. If It Ain't Ruff
05. Parental Discretion Iz Advised
06. 8 Ball
07. Something Like That
08. Express Yourself
09. Compton's in the House
10. I Ain't Tha 1
11. Dopeman
12. Quiet on tha Set
13. Something 2 Dance 2
100 Miles and Runnin' (1990)
01. 100 Miles and Runnin'
02. Just Don't Bite It
03. Sa Prize, Pt. 2
04. Real Niggaz
05. Kamurshol
Efil4zaggin (Niggaz4life) (1991)
01. Prelude
02. Real Niggaz Don't Die
03. Niggaz 4 Life
04. Protest
05. Appetite For Destruction
06. Don't Drink That Wine
07. Alwayz Into Somethin'
08. Message To B.A.
09. Real Niggaz
10. To Kill A Hooker
11. One Less Bitch
12. Findum, Fuckum & Flee
13. Automobile
14. She Swallowed It
15. I'd Rather Fuck You
16. Approach To Danger
17. 1-900-2 Compton
18. The Wayz Of Wayback