Poor Righteous Teachers are an underground HipHop group from Trenton, New Jersey, founded in 1989.

Often referred to as PRT by their fans, Poor Righteous Teachers are known as pro-Black conscious hip hop artists, with musical content inspired by the teachings of the Nation of Gods and Earths. Wise Intelligent, as the lead MC, is the most visible and well known member of the group. Culture Freedom provides backing vocals and production and Father Shaheed serves as a DJ and producer.

Its discography, for the most part on Profile Records, is out of print.
As an Amazon Associate I earn from qualifying purchases made through affiliate links.
Holy Intellect (1990)
01. Can I Start This?
02. Rock Dis Funky Joint
03. Strictly Ghetto
04. Holy Intellect
05. Shakiyla
06. Time To Say Peace
07. Style Dropped/Lessons Taught
08. Speaking Upon A Blackman
09. So Many Teachers
10. Word From The Wise
11. Butt Naked Booty Bless
12. Poor Righteous Teachers
Pure Poverty (1991)
01. Shakiyla(JRH)
02. Easy Star
03. Self-Styled Wisdom
04. Hot Damn I'm Great
05. Strictly Mash'ion
06. The Nation's Anthem
07. Each One Teach One
08. Rappin' Black
09. Just Servin' Justice
10. Freedom Or Death
11. Methods Of Droppin' Mental
12. Pure Poverty
13. I'm Comin' Again
Black Business (1993)
01. 144K
02. Da Rill Shit
03. Nobody Move
04. Mi Fresh
05. Here We Go Again
06. Selah
07. Black Business
08. Get Off The Crack
09. None Can Test
10. Ghetto We Love
11. Rich Mon Time
12. Lick Shots
New World Order (1996)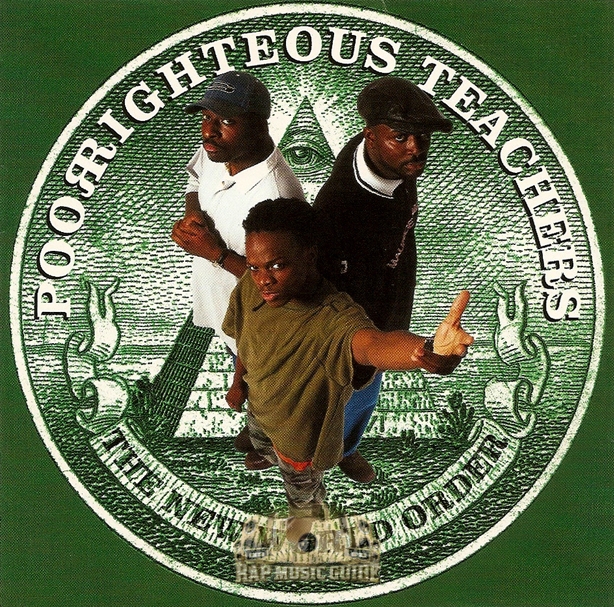 01. Who Shot the President?
02. Miss Ghetto
03. Word Iz Life
04. Allies
05. New World News
06. Gods, Earths and Eighty Fivers
07. My Three Wives (Shakyla, Pt. 3)
08. Wicked Everytime
09. N.A.T.O. (Global Cops)
10. Conscious Style
11. Culture Freestyles
12. They Turned Gangsta
13. We Dat Nice
14. Hear Me Out
15. Fo da Love of Dis
16. Dreadful Day
17. Sistuh
Rare & Unreleased (2006)
01. Can I Start This (Drummer & DJ Mix)
02. Styles Dropped (UK Mix)
03. Butt Naked (Remix)
04. The Very First Time
05. Holy Intellect (Can't Blend It)
06. So Low (Remix)
07. Steady Slangin (Project Mix)
08. Rock Dis Funky Joint (Croon)
09. Word Is Bond
10. Rock My Project
11. Time To Say Peace (Northside)
12. Name Brand Guns (Remix)
13. My Sound (Remix)
14. Word Is Bond (Acappella)