America Is Dying Slowly (a backronym for AIDS) is a compilation album, the eighth in the Red Hot AIDS Benefit Series of recorded by the Red Hot Organization. It featured collaborations from several hip hop acts, including Mobb Deep, De La Soul, Coolio, Biz Markie, Chubb Rock, The Lost Boyz, Pete Rock, Common and Wu-Tang Clan.

Dubbed "a masterpiece" by The Source on its release, AIDS was one of the first of such efforts aimed at reaching out to African American men through pop culture.
As an Amazon Associate I earn from qualifying purchases made through affiliate links.
America Is Dying Slowly (1996)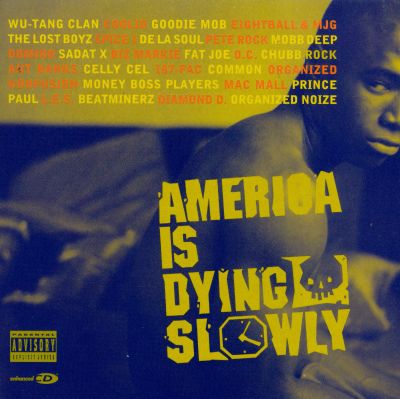 01. Biz Markie, Chubb Rock & Prince Paul – No Rubber, No Backstage Pass
02. Pete Rock & The Lost Boyz – The Yearn
03. Wu-Tang Clan – America
04. Goodie Mob – Blood
05. Coolio – I Breaks 'Em Off
06. Eightball & MJB – Listen To Me Now
07. Mobb Deep, L.E.S. & A.C.D. – Street Life
08. Money Boss Players – Games
09. Spice 1, Celly Cel, 187-Fac, Ant Banks & Gangsta P – Check Ya Self
10. Common & Sean Lett – [Lately] I've Been Thinking
11. Organized Konfusion – Decisions
12. De La Soul & Da Beatminerz – The Hustle
13. O.C. & Buckwild – What I Represent
14. Sadat X, Fat Joe & Diamond D – [Stay Away From The] Nasty Hoes
15. Domino – Sport That Raincoat
16. Mac Mall – Suckas P.H.