NYC Live Throw Down is a collection of live recordings of early live Hip Hop shows from '79 to '85.
This Old School collection contains performances from pioneers like Grandmaster Flash, Kool Moe Dee, Busy Bee, The Force MCs, Treacherous Three, Cold Crush 4 MCs and much more. You will also find 21 vintage NYC show flyers and artwork in this set.
Let's go back in time!
NYC Live Throw Down 1979-1985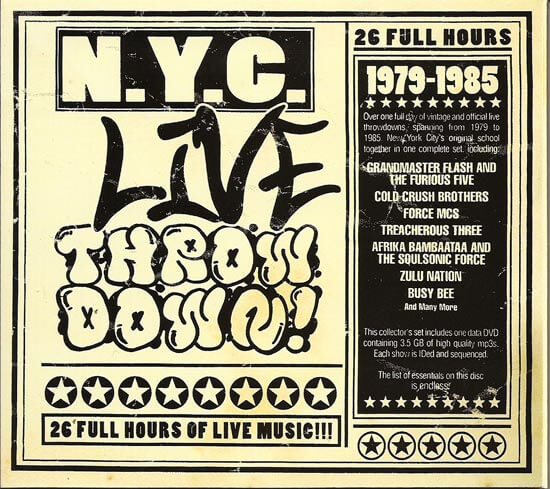 01. Flash On The Beat Box
02. Afrika Bambaataa & The Soulsonic Force
03. Christmas Rappers Convention
04. Cold Crush Battle The Fantastic Five
05. Cold Crush vs. Force MCs
06. Cosmic Force, Afrika Bambaataa, Devastating 4, Soulsonic Force, Original Jazzy Five
07. Cosmic Force, Devastating 4, Original Jazzy Five, Afrika Bambaataa, Red Alert, Whiz Kid
08. Devastating 3 MCs: Kid West, Magic Dee & Barry Bee
09. DJ Breakout, DJ Barren, Funky 4+1, DJ Whiz Kid, Harmonizing 4
10. DJ Jazzy Jay & The Jazzy Five MCs
11. The Fantastic 5, Jazzy 5
12. Doug E. Fresh, Barry Bee, Chuck A Luck, Sweet Slick & Sly, Tranquilizing 3
13. Ecstasy Garage All Stars: Grandmaster Caz, JDL, Whipper Whip, K-Gee, Ruby Dee, Theodore, Soul Sonic Force, Nice & Nasty Four
14. Fantastic Five, Grandmaster Caz, Busy Bee, Whiz kid, Treacherous Three, Spoonie Gee
15. Force MCs
16. Funky 4 + 1
17. Grandmaster Flash & The Furious 5
18. Grandmixer DST & The Cold Crush Brothers
19. Imperial JayCee, Grand Wizard Theodore, Fantastic Five, Touch Of Class
20. Busy Bee & The Cold Crush Brothers
21. Grandmaster Flash, Disco Bee, Busy Bee, Melle Mel, E-Man
22. L-Brothers, Treacherous 3, Busy Bee, Melle Mel, Grandmaster Flash, Theodore, E-man, Smiley
23. Phase 3, Cool AJ, Rapper Wise, Ultimate 3 MCs, DJ Disco, Quick, Sweet Slick and Sly
24. Rodney C's Birthday Party
25. Super Sonic 4 MCs, DJ Cisco, Cool Clyde
26. Rat Ski, DJ Kevin Kanyeah, Emcee SPUD
27. T La Rock & The Treacherous Three
28. The Incredible 3 MCs: Tech Ski, Destiny, Chucky Chuck & DJ Lil Chase
29. Lovebug Starski, Treacherous Three, Spoonie Gee
30. Treacherous 3
31. Jazzy Jay, Smitty Dee, Kid Vicious, Tricky Tee, Malibu, Pow Wow, Nae Nae
32. Cosmic Force, Sha Rock Lisa Lee, L-Brothers
33. Zulu Nation, Jazzy Jay, Hutch Hutch, Pow Wow