DJ Jazzy Jeff & The Fresh Prince is a hip hop group from West Philadelphia, Pennsylvania.

Vocalist Will Smith (The Fresh Prince) met Jeff Townes (DJ Jazzy Jeff) while trying to pass the typing test in West Philadelphia's local hip hop scene. After joining forces with Clarence Holmes (Ready Rock C) the team members became local celebrities…
As an Amazon Associate I earn from qualifying purchases made through affiliate links.
Rock The House (1987)
01. Girls Ain't Nothing But Trouble (1988 Extended Remix)
02. Just One Of Those Days
03. Rock The House
04. Taking It To The Top
05. The Magnificent Jazzy Jeff
06. Just Rockin'
07. Girls Ain't Nothing But Trouble
08. A Touch Of Jazz
09. Don't Even Try It
10. Special Announcement
He's the DJ, I'm the Rapper (1988)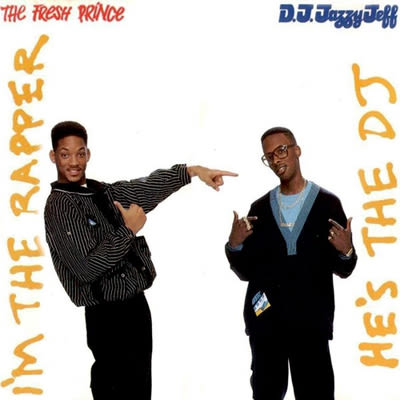 01. Nightmare on My Street
02. Here We Go Again
03. Brand New Funk
04. Time to Chill
05. Charlie Mack (1st out of the Limo)
06. As We Go
07. Parents Just Don't Understand
08. Pump Up the Bass
09. Let's Get Busy Baby
10. Live at Union Square (November 1986) [Live]
11. D.J. on the Wheels
12. My Buddy
13. Rhythm Trax – House Party Style
14. He's the D.J., I'm the Rapper
15. Hip Hop Dancer's Theme
16. Jazzy's in the House
17. Human Video Game
And in This Corner… (1989)
01. Then She Bit Me
02. I Think I Can Beat Mike Tyson
03. Jazzy's Groove
04. Everything That Glitters (Ain't Always Gold)
05. You Got It (Donut)
06. The Girlie Had A Mustache
07. The Reverend
08. Who Stole My Car?
09. The Men Of Your Dreams
10. Numero Uno
11. Too Damn Hype
12. Jeff Waz On The Beat Box
Homebase (1991)
01. I'm All That
02. Summertime
03. The Things That U Do
04. This Boy Is Smooth
05. Ring My Bell
06. A Dog Is a Dog
07. Caught in the Middle (Love & Life)
08. Trapped on the Dance Floor
09. Who Stole the D.J.
10. You Saw My Blinker
11. Dumb Dancin'
12. Summertime (Reprise)
13. Ring My Bell [Remix]
Code Red (1993)
01. Somethin' Like Dis
02. I'm Looking for the One (To Be With Me)
03. Boom! Shake the Room
04. Can't Wait to Be With You
05. Twinkle Twinkle (I'm Not a Star)
06. Code Red
07. Shadow Dreams
08. Just Kickin' It
09. Ain't No Place Like Home
10. I Wanna Rock
11. Scream
12. Boom! Shake the Room [Street Remix]