"Masters of understated musical eloquence, production trio Da Grassroots have been key figures in the rise of the Toronto hip-hop scene.
For their full-length debut, they've recruited a bunch of sharp hometown MCs to bless their tracks. Obviously vinyl junkies, Mr. Attic, Swiff, and Mr. Murray raid their crates to serve up sophisticated arrangements that consistently fit the MCs' flows and deliver head-nodding satisfaction…" – Del F. Cowie
Passage Through Time (1999)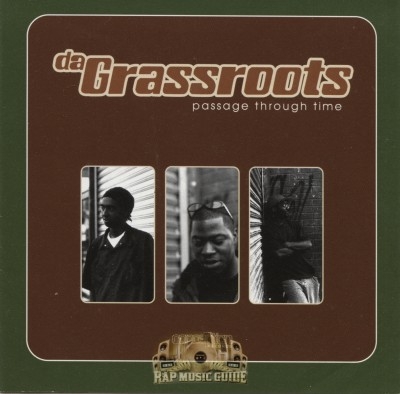 01. Intro
02. Spears of Ice Feat. Q-Bot
03. Thematics Feat. Arcee
04. Eternal Feat. K-Os & Thrust
05. Precious Metals Feat. Ghetto Concept
06. Kenny's Query
07. Last Days Feat. Marvel & G-Knight
08. Price of Livin' Feat. Mr.Roam from the Plant
09. Pylar Sanchez Feat. Remy Rezzin'
10. Intermission
11. Informercial
12. Postal Work Feat. Mr.Roam from the Plant
13. Body Language Feat. Saukrates & Choclair
14. The Approach
15. Black Dove Feat. Schizm
16. Kenny's Theme
17. Melancholy Blue
18. Political Proverbs Feat. Cryp2nite & Q-Bot
19. A Mother's Love
20. Born II Roam Feat. Mr.Roam from the Plant
21. Revival (Three Rhyme Superstars) Feat. Arcee, Schizm, Fatski, & DJ S.O.S.
22. Drama Feat. Elemental (Bonus Track)
23. Living Underwater Feat. Elemental (Bonus Track)
24. Living Underwater – Elemental