Jun Seba (Seba Jun, February 7, 1974 – February 26, 2010) was a Japanese Hip Hop producer and DJ who recorded under the name Nujabes, the reverse spelling of his name in Japanese order.

Nujabes, was also owner of the Shibuya record stores, T Records and Guinness Records and founder of the independent label Hydeout Productions. He received widespread acclaim for his unique and innovative approach to Hip Hop.
As an Amazon Associate I earn from qualifying purchases made through affiliate links.
Metaphorical Music (2003)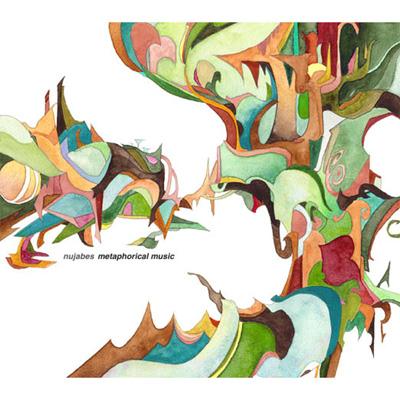 01. Blessing It (Remix) (ft. Pase Rock, Substantial)
02. Horn In The Middle
03. Lady Brown (ft. Cise Starr)
04. Kumomi
05. Highs 2 Lows (ft. Cise Starr)
06. Beat Laments The World
07. Letter From Yokosuka (Prod. by Uyama Hiroto)
08. Think Different (ft. Substantial)
09. A Day By Atmosphere Supreme
10. Next View (ft. Uyama Hiroto)
11. Latitude (Remix) (ft. Five Deez)
12. F.I.L.O. (ft. Shing02)
13. Summer Gypsy
14. The Final View
15. Peaceland
Hydeout Productions First Collection (2004)
01. Moon Strut (Intro)
02. Don't Even Try It (ft. Funky DL)
03. Strive (ft. Apani B)
04. Home Sweet Home (ft. Substantial)
05. Still Talking To You
06. Luv (Sic) (ft. Shing02)
07. Steadfast
08. Lyrical Terrorists (ft. Substantial & L-Universe)
09. Lose My Religion (Remix) (ft. L-Universe)
10. It's About Time (Fat Jon Remix) (ft. Pase Rock)
11. Plazma Avenue (Remix) (ft. Five Deez)
12. D.T.F.N. (ft. Cise Starr)
13. Peoples Don't Stray (ft. Funky DL)
14. Luv (Sic) Part 2 (ft. Shing02)
Nujabes and Fat Jon – Samurai Champloo Music Record: Departure (2004)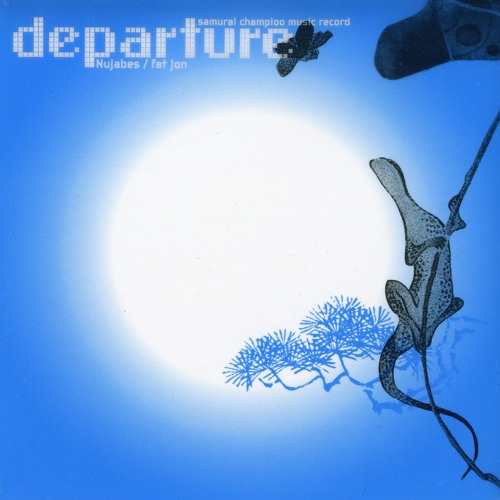 01. Nujabes – Battlecry (ft. Shing02)
02. Nujabes – The Space Between Two World
03. Nujabes – Aruarian Dance
04. Nujabes – Kujaku
05. Nujabes – Mystline
06. Nujabes – 1st. Samurai
07. Fat Jon – Ole
08. Fat Jon – 624 Part 2
09. Fat Jon – Genome
10. Fat Jon – No Way Back
11. Fat Jon – Funkin
12. Fat Jon – Stay
13. Fat Jon – Chambers
14. Fat Jon – Ask
15. Fat Jon – How You Feel
16. Fat Jon – 624 Part 1
17. Minmi – Shiki No Uta
Force Of Nature, Nujabes, Fat Jon – Samurai Champloo Music Record: Impression (2004)
01. Force Of Nature – Just Forget
02. Force Of Nature – Nightshift
03. Force Of Nature – Style (ft. S-Word, Suiken)
04. Force Of Nature – The Stroll
05. Force Of Nature – Set It Off
06. Force Of Nature – Death Wish
07. Force Of Nature – The Million Way Of Drum
08. Nujabes – A Space In Air In Space In Air (Interlude)
09. Nujabes – Sanctuary Ship
10. Nujabes – Haiku (Interlude)
11. Nujabes – Tsurugi No Mai
12. Nujabes – Dead Season
13. Nujabes – Decade (Interlude)
14. Nujabes – World Without Words
15. Nujabes – Kodama (Interlude)
16. Nujabes – Silver Morning
17. Fat Jon – Bracelet
18. Fat Jon – In Position
19. Fat Jon – Night Out
20. Fat Jon – Not Quite Seleah
21. Fat Jon – Labyrinth Statistic
22. Fat Jon – Here And There
23. Minmi – Who's Theme
Modal Soul (2005)
01. Feather (ft. Cise Starr & Akin From Cyne)
02. Ordinary Joe (ft. Terry Callier)
03. Reflection Eternal
04. Luv (Sic) Pt3 (ft. Shing02)
05. Music Is Mine
06. Eclipse (ft. Substantial)
07. Sign (ft. Pase Rock)
08. Thank You (ft. Apani B)
09. World's End Rhapsody
10. Modal Soul (ft. Uyama Hiroto)
11. Flowers
12. Sea Of Cloud
13. Light On The Land
14. Horizon
Hydeout Productions Second Collection (2007)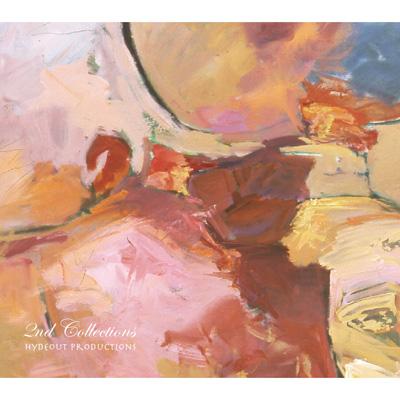 01. Nujabes – Voice Of Autumn
02. Nujabes – Sky Is Falling (ft. C.L. Smooth)
03. Uyama Hiroto – Waltz For Life Will Born
04. Nujabes – Imaginary Folklore
05. Nujabes – Hikari (ft. Substantial)
06. Nujabes – Counting Stars
07. Nujabes – Another Reflection
08. Nujabes – Fly By Night (ft. Five Deez)
09. Pase Rock – Old Light (Voices From 93 Million Miles Away Remix)
10. Emancipator – With Rainy Eyes
11. Shing02 – Luv(sic.) Modal Soul Remix
12. Uyama Hiroto – Windspeaks
13. DSK – Winter Lane (Nujabes Remix)
14. Nujabes – After Hanabi -Listen To My Beats-
Spiritual State (2011)
01. Spiritual State (ft. Uyama Hiroto)
02. Sky Is Tumbling (ft. Cise Star)
03. Gone Are The Day (ft. Uyama Hiroto)
04. Spirale
05. City Light (ft. Pase Rock, Substantial)
06. Color Of Autumn
07. Dawn On The Side
08. Yes (ft. Pase Rock)
09. Rainy Way Back Home
10. Far Fowls
11. Fellows
12. Waiting For The Clouds (ft. Substantial)
13. Prayer
14. Island (ft. Haruka Nakamura & Uyama Hiroto)