The H.E.A.L. (Human Education Against Lies) movement is currently coordinated by Zizwe Mtafuta-Ukweli (translation: one born in a foreign land searching for the truth) and KRS-ONE.
H.E.A.L.'s first move was to launch an airwaves and literary offensive against lies unmatched by any other offensive in recent history. The first project of the H.E.A.L. movement was the production of a collaborative video and album by artists dedicated to the destruction of Common Sense Deficiency Syndrome (CSDS).
These artists include: Kid Capri, Big Daddy Kane, LL Cool J, Freddie Foxxx, Harmony, MC Lyte, Queen Latifah, Ms. Melodie, Jam Master Jay, DMC, D-Nice, Chuck-D, Jonathan Demme, Ted Demme, Fab 5 Freddie, Pam Jenkins, Billy Bragg, Michael Stipes, Ziggy Marley, Simone, Ready Z and KRS-ONE…
As an Amazon Associate I earn from qualifying purchases made through affiliate links.
Civilization VS. Technology (1991)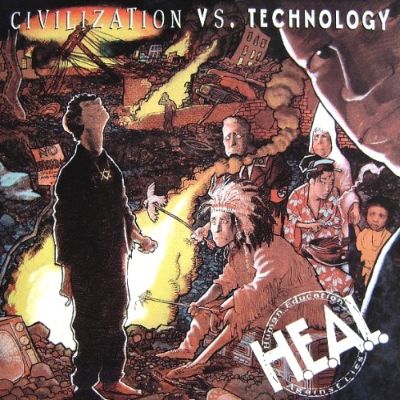 01. Heal Yourself – Harmony, Kid Capri, Big Daddy Kane, Freddy Foxxx
02. I Am What I Am – Sister Carol
03. Anti-ho – Ms. Melodie
04. Whole World African – Ska Danks
05. Don't Hold Us Back – Heather B.
06. Know Your Culture – Kevin B., Sleepy Wonder, Rev. Badoo, Mickey Jarre
07. O' Freedom – Kushtie, Musik G., Sky High
08. One Bright Day – Ziggy Marley and The Melody Makers
09. Family Got To Get Busy – Salt-N-Pepa, Kool Moe Dee, Grand Daddy IU, Ms.
10. Correct Education – Ready Z
11. Family – Simone
12. Civilization Vs. Technology – Michael Stipe, Krs-One, Harmony
13. Tighten Up Your Wig – Billy Bragg and The Athenians, DJ Woody Dee