Haiku D'Etat is a hip hop supergroup trio consisting of Aceyalone & Myka 9 of the Freestyle Fellowship, and Abstract Rude, the leader of Abstract Tribe Unique. Abstract Rude previously worked with Aceyalone as the A-Team. All three artists are heavily affiliated with the Project Blowed, group members Aceyalone and Abstract Rude being co-founders.

The name Haiku D'Etat is a portmanteau of haiku and coup d'etat, meaning something akin to a musical revolution or a "poetry takeover" as one of their songs puts it. The group released their eponymous debut album in 1999, and regrouped in 2004 to release a follow up, Coup de Theatre…
As an Amazon Associate I earn from qualifying purchases made through affiliate links.
Haiku D'Etat (1999)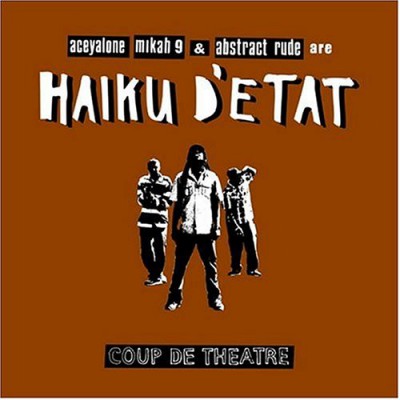 01. Haiku d'Etat
02. Non Compos Mentis
03. Studio Street Stage
04. Los Dangerous
05. Pro Tool Robots
06. Wants Vs. Needs
07. S.O.S.
08. Firecracker
09. Still Rappin'
10. Other MC's
11. West Side Slip and Slide
12. Kaya
Coup de Theatre (2004)