Eric Barrier and Rakim Allah (born William Michael Griffin, Jr.) were an underground hip-hop duo from Long Island, in the borough of Queens, New York, who recorded as Eric B. & Rakim.

The pair is generally considered to be one of the most influential and innovative groups in the hip hop genre. During hip hop's "golden age," they were almost-universally regarded as the premier MC/DJ combo in rap…
As an Amazon Associate I earn from qualifying purchases made through affiliate links.
Paid in Full (1987)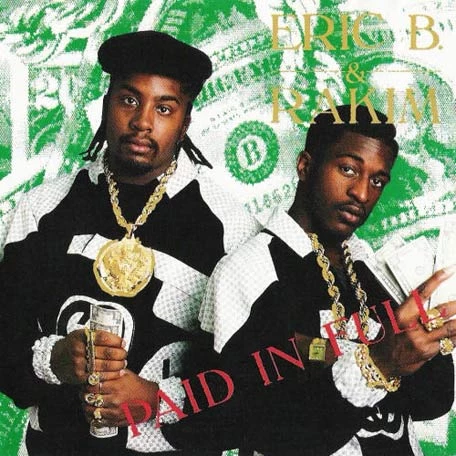 01. I Ain't No Joke
02. Eric B. Is on the Cut
03. My Melody – Eric B. & Rakim, Rakim
04. I Know You Got Soul
05. Move the Crowd
06. Paid in Full
07. As the Rhyme Goes On
08. Chinese Arithmetic
09. Eric B. Is President
10. Extended Beat
11. As the Rhyme Goes On (Radio Mix)
12. Paid in Full (Mini Madness- The Coldcut Remix)
Follow the Leader (1988)
01. Follow The Leader
02. Microphone Fiend
03. Lyrics Of Fury
04. Eric B. Never Scared
05. Just A Beat
06. Put Your Hands Together
07. To The Listeners
08. No Competition
09. The R
10. Musical Massacre
11. Beats For The Listeners
Let the Rhythm Hit 'Em (1990)
01. Let The Rhythm Hit 'Em
02. No Omega
03. In The Ghetto
04. Step Back
05. Eric B. Made My Day
06. Run For Cover
07. Untouchables
08. Mahogany
09. Keep 'Em Eager To Listen
10. Set 'Em Straight
11. Let The Rhythm Hit 'Em (12' Vocal Version Remix)
Don't Sweat the Technique (1992)