"We met on soundcloud. We know nothing about each other. We make some ill tracks by email. From Norfolk V.A to Leicester UK. Nuff said." – Dyslexia and Sik Sense
Habits introduces a dark soundscape inspired by, and drawing from themes generally avoided in Hip-Hop; addiction, anxiety, disdain and malice are coupled with equal parts braggadocio, self-doubt and a love stain size smattering of self deporacating humour which leads you on a dizzying spiral into the minds of Dyslexia and Sik Sense.
With features from Fugitive 9 kingpins; Cosmo TX, Cuda Brown, Moe Hendrix, Sintax 0 and Whyze Oner you are welcomed into the re-emerging pattern of habits with an awkward handshake and a tipped stetson.
Habits (2014)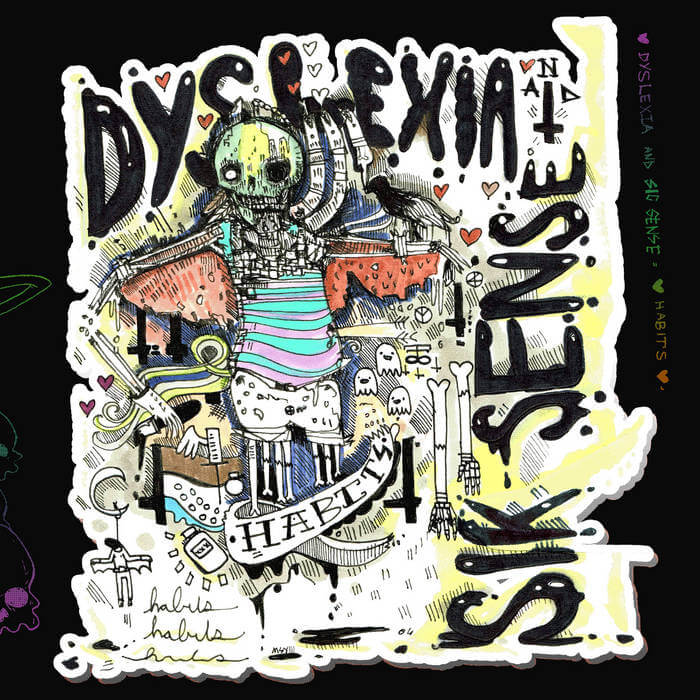 01. Habits (Intro)
02. Method Owned (Ft. Cuda Brown)
03. Escapism
04. Casket Closed/After Birth
05. Chemical Compounds
06. Serpent King
07. Forest, Me (Follow Rabbit)
08. Baron Strange Fruit
09. Vultures
10. One by One
11. Puppet Master
12. Waveform (Ft. Whyze One)
13. Reefaman (Ft. Cosmo TX)
14. Tetramorph (Ft. Fugitive 9)
15. Precious Little Hope
16. Signing Off (Ft. Sintax 0)
17. Time Flies
Follow Dyslexia and Sik Sense on: