The Digital Underground's leader is Greg "Shock G" Jacobs, who also went by the stage name of Humpty Hump. Jacobs spent most of his youth in New York City and southern Florida. Heavily influenced by the various Funk bands of the 1970s, Digital Underground sampled their music frequently, which quickly became a defining element of West Coast rap.

Their 'alternative' status owes much to their unabashedly spaced-out image, which lay in contrast to the gangster rap that most west coast acts focused on. The group's original image was set up to be a tribute to social activists The Black Panthers, but when Public Enemy became a prominent band, Jacobs chose to take the group's image in a more whimsical direction, that of an updated Parliament-Funkadelic for the hip-hop audience. Jacobs designed detailed album covers and cartoon-laced liner notes, a homage to Parliament-Funkadelic album designs. Digital Underground is also notable for launching the career of member Tupac Shakur.
Sex Packets (1990)
01. The Humpty Dance
02. The Way We Swing
03. Rhymin' On The Funk
04. The New Jazz (One)
05. Underwater Rimes (Remix)
06. Gutfest '89 (Edit)
07. The Danger Zone
08. Freaks Of The Industry
09. Doowutchyalike
10. Packet Prelude
11. Sex Packets
12. Street Scene
13. Packet Man
14. Packet Reprise
This Is An EP Release (1991)
01. Same Song
02. Tie the Knot
03. The Way We Swing
04. Nuttin' Nis Funky
05. Packet Man
06. Arguin' on the Funk
Sons of the P (1991)
01. The DFLO Shuttle
02. Heartbeat Props
03. No Nose Job
04. Sons Of The P
05. Flowin' On The D-Line
06. Kiss You Back
07. Tales Of The Funky
08. The Higher Heights Of Spirituality
09. Family Of The Underground
10. The D-Flowstrumental
11. Good Thing We're Rappin'
Body-Hat Syndrome (1993)
01. The Return Of The Crazy One
02. Doo Woo You
03. Holly Wanstaho
04. Bran Nu Swetta
05. The Humpty Dance Awards
06. Body-Hats (Part 1)
07. Dope-A-Delic (Do-U-B-Leeve-In-D-Flo?)
08. Intermission
09. Wussup Wit The Luv
10. Digital Lover
11. Carry The Way (Along Time)
12. Body-Hats (Part 2)
13. Circus Entrance
14. Jerkit Circus
15. Circus Exit (The After-Nut)
16. Shake & Bake
17. Body-Hats (Part 3)
18. Do Ya Like It Dirty?
19. Bran Nu Sweat This Beat
20. Wheee!
Future Rhythm (1996)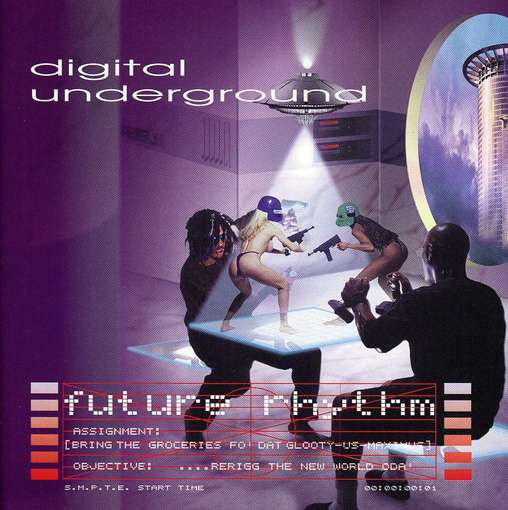 01. Walk Real Kool
02. Glooty-Us-Maximus
03. Oregano Flow
04. Fool Get a Clue
05. Rumpty Rump
06. Food Fight
07. Future Rhythm
08. Hokis Pokis (A Classic Case)
09. We Got More
10. Hella Bump
11. Stylin'
12. Midnite Snack
13. Oregano Flow
14. Want It All
Who Got The Gravy? (1998)
01. I Shall Return (ft. KRS-One)
02. Holla Holiday (ft. Humpty, Shock-G, Clee & John Doe)
03. Wind Me Up (ft. Humpty & Esinchill)
04. The Mission (ft. Big Pun, Shock-G, Styles & Whateva)
05. The Odd Couple (ft. Biz Markie & Humpty)
06. Blind Mice (ft. Shock-G, Money B, Humpty, Black Ty, Rashida & Malia)
07. The Gravy (ft. Shock-G & Truck Turner)
08. Peanut Hakeem (ft. Peanut & Shock-G)
09. Mans Girl (ft. Shock-G, Money B, Clee & Gruve)
10. April Showers (ft. Mystik, Shock-G & Money B)
11. Cyber Teeth Tigers (ft. KRS-ONE & Shock-G)
The Lost Files (1999)
01. On One
02. X for tha Ear
03. People Over the Stairs
04. Mind Bubble
05. Voodoo Woman
06. How Long
07. Nothin Has Changed
08. Phone Call Away
09. Strawberry Letter 23
10. I Been Watchin You
11. Know Me Feel Me
..Cuz a D.U. Party Don't Stop!! (2008)
01. Eat Boiled Peanutz
02. Who's Bumpin
03. Cali Boogie
04. Lettuce In The Club
05. More Manure
06. Blue Skyy
07. Hoo's Hoo
08. Meeheadsoon
09. Soundcheckin'
10. Step Up
11. Thuglife Party
12. Family Freestyles
13. Channel Surfin'
14. All About You
15. Children of the Sun
16. Four One Four
17. Everything Ya Done 4 Me
18. Sex Packets Unplugged
The Greenlight EP (2010)